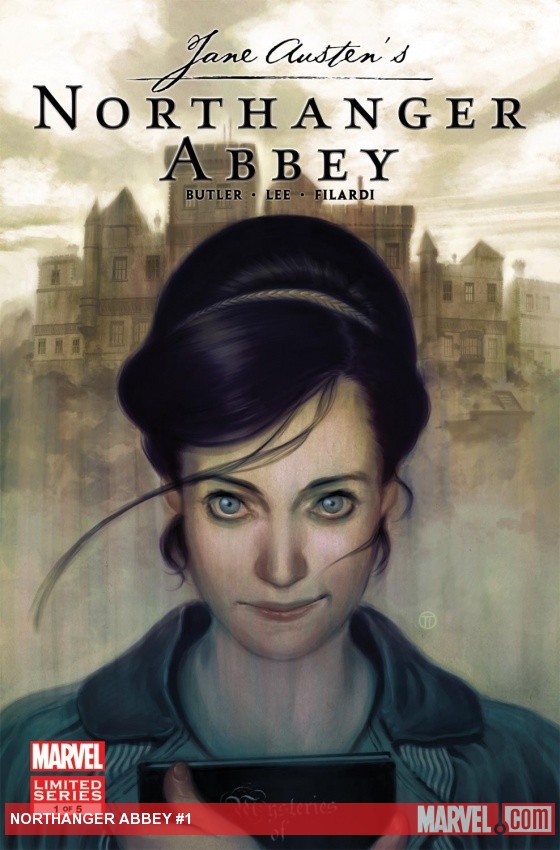 I've been pretty open about the idea that comics are still a reading stumbling block for me. My friend Alison loves comics so whenever she comes across something she thinks might do the trick for me, she makes sure to get it into my hands. I sometimes decline her suggestions due to time limitations, but I always try to see what she's offering. A couple weeks ago she handed me Jane Austen's Northanger Abbey in comic form, and there was no way I wasn't going to give this one a go – Jane Austen is my jam.
I struggled a bit with Northanger Abbey when I read it for the first time a few years ago, and its one of very few books I have read in my CBR years that I did not review. I struggled to sink into the book on that round, but I think its because I read the academic introduction which preceded it. This time I let myself just float along with the loving adaption of Jane Austen's most humorous work.
Matching Austen's satire of Gothic Literature, we follow Catherine Morland's quest to be the leading lady of her own great romance. Catherine is determined to find the correlations between real life and  the Gothic novels she finds so enchanting. Austen upturns Catherine's expectations at each turn, and Nancy Butler and illustrator Janet Lee capture the original while making it their own as well. While not my favorite reading experience, I can suggest this to anyone looking for a quick revisit of Austen.
This book was read and reviewed as part of the charitable Cannonball Read.