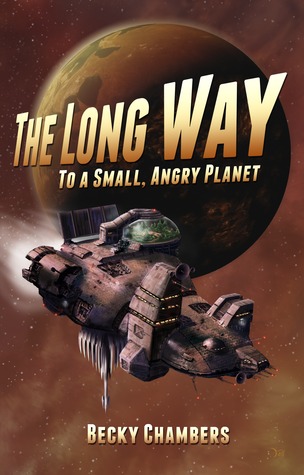 Science Fiction is one of the genres that grew on me over time.  I find myself drawn more to the space-based versions, books like the Red Rising trilogy, The Martian, Hitchhiker's Guide to the Galaxy, The Sparrow, and Children of God have been favorites over the years.  There's something about the exploration and survival stories that are part of the genre that work for me. I became particularly interested in The Long Way to a Small Angry Planet when I heard it described as a contemplative, character driven space opera. My favorite genre books are all character driven. But I still put this book on and off my to read list at least once, but that's a story for later in the review.
The Long Way to a Small, Angry Planet is at its heart a road trip story. We're introduced to the ship the Wayfarer in the form of a newly added crew member: Rosemary Harper. No one expects much when she joins the crew the captain, Ashby, just needs someone to be their clerk and keep up with the forms so they can get better jobs drilling holes in space, and Rosemary is looking to be anywhere but where she came from. While the hodgepodge ship has seen better days, it offers Rosemary a place to rest her head and some distance from her past.  Life aboard the Wayfarer is chaotic and crazy and populated by a diverse crew of sapients. It's also about to get extremely dangerous when the crew is offered the job tunneling a wormhole to the titular small, angry planet. While that's just the type of plot that works for me, in the hands of Becky Chambers it is treated in an episodic way. She spends over 400 pages of her book bouncing from one small adventure to another resulting in character development but not much else. But it doesn't really need much else; its power is in the small things it accomplishes.
The book is also unabashedly feminist (Chambers used to write for The Mary Sue), sex positive, inclusive, and has an overall optimistic view of the future, even if that future contains our destroying the Earth.  The crew of the Wayfarer lives in a world which intrinsically makes room for multiple ways of being. Chambers isn't writing a story about overthrowing systems and fighting against injustice. Her story is about the lives we lead in a universe that is stable but still has its problem areas. She's writing a story about adults for adults that isn't "adult" in its content. Not all of her characters are loveable, or necessarily likeable, but they all make sense. They may be alien (and Chambers manages to really make her aliens seemingly infinitely diverse) but they are all recognizable and relatable. It makes the minutiae of their lives an interesting read all by itself, and puts the larger plot of the journey take a back seat.
Time to circle back to my almost putting this book off to some indeterminate time: some science fiction books have absolutely beautiful cover art… and some do not. That was honestly part of my entry bias to The Long Way to a Small, Angry Planet, that I absolutely hated its cover. I also couldn't really get excited about the frequent comparisons to other properties – it didn't sound like the fun character study I had initially been sold on.  I put it back on my to read list when I read the Read Harder Challenge Tasks late last year, and  its lackluster cover got it its spot on 2018's to read list.
This book was read and reviewed as part of the charitable Cannonball Read where we read what we want, review it how we see fit (within a few guidelines), and raise money in the name of a fallen friend for the American Cancer Society.