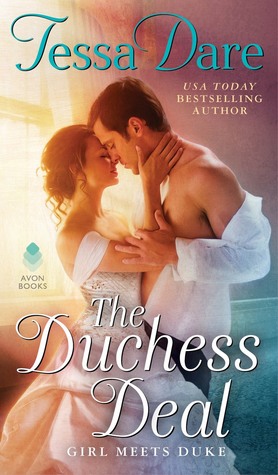 I did some traveling over the Easter holiday weekend and left the Tessa Dare book I was reading the week before at Ale's house post snow storm. Not a problem – I have a nook full of other books in need of reading so I went ahead and pulled up another Dare, The Duchess Deal.
I had this one lined up and ready to go for two reasons: 1. I really love Tessa Dare books, and 2. this was nearly universally claimed as one of the few highlights of the 2017 publishing year for Romance by our Cannonball Romance Readers. So of course I purchased it immediately. The only drawback? I have a few months to wait until the next in the series, this terrible waiting is why I normally don't start a series until later in the publishing order.
So what makes this one so good? Dare's cleverness in wordplay and character development without some of her worst over the top tropes (no strange pets, just a regular old cat named Britches), a truly sardonic wit, and a bit of poking at modern social commentary right down to the use of the "she was warned…" speech which has inspired so many of us to adopt "nevertheless, she persisted" as our own battle cry.
The elevator pitch of this book is right in line with classic Dare: a disfigured Duke (literally half of his body covered in terrible scars from an explosion) needs an heir so he proposes marriage to the first convenient woman to meet his requirements (which are quite low), and the seamstress who was to have sewn his former fiancé's wedding gown and is demanding payment marches in and takes his money but refuses his proposal. We are off to the races for a marriage of convenience plot (with ridiculous rules!) with a truly forbidding hero and plucky heroine.
I know I haven't said much, but if Dare has ever done it for you, this book will probably hit all the right notes for you. Only four more months until the next one is published…
This book was read and reviewed as part of the charitable Cannonball Read, where we read what we want, review it how we see fit (with a few guidelines), and raise money in the name of a fallen friend for the American Cancer Society.